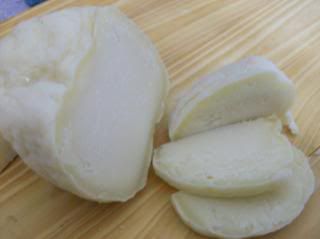 Alrighty… so many of you remember I made my first hard cheese about 3 weeks ago. It was supposed to be a provolone, though I couldn't get it to stretch and finally gave up on that part. You can see the original post on when I made it here.
We decided to cut into it yesterday. Wowee! That was a tangy sharp cheese! Mr. Hot Stuff was absolutely in heaven. He loved it, and wants me to make more – he said it tasted like the goatcheese his grandmother used to feed him when he was a kid. That's actually a pretty good compliment because he has said many times he wished he could have that cheese again and never had one that was like it. It was a bit too stout for me, and I think it was so stout because of the type of lipase enzymes I used (KA). Mr. Hot Stuff just really loves strong flavored food. I bet he'd love it if I put garlic in it next time
The flavor was really good, it was a very dry and hard texture. I think I lost a lot of butterfat in the whey because I remember it was pretty milky, and the cheese didn't taste like it had as much fat in it as I'd expect for being made from whole milk. The flavor itself was cool because you took a bite and it tasted pretty good and then exploded in your mouth with flavor! I know that sounds cheesy (ooo, pun not intended lol) but it really was how it felt to me. I liked it, though it was too strong for me to eat but Mr. Hot Stuff gobbled it up. I now have a pot that will accomondate 2 gallons of milk and I have a cheese press so I think I'll try the same cheese pressed next time. It looked like if I aged it a bit more it could be a passable sub for parmesan, though with WAY more flavor. We'll see!
I think my next one will be a farmhouse cheddar, though. Mr. Hot Stuff now wants me to let him know next time I make cheese so he can watch the process. Who knows, this might be something we could both get in to 🙂 But I'll do my best to keep him in this cheese, I hope it turns out as good next time I try to make it. So, without further ado, more pictures 🙂
The unveiling of the cheese 🙂 This wasn't pressed, all I did was hang it. It ended up a pretty weird texture on the outside, very "brainy" looking. I think I'll press the next one just lightly to see how that goes.

The final product. You can kinda see just how dry it is – and it was only aged for 3 weeks. I think it was because of the lack of humidity in my basement – though it turned out pretty darn good!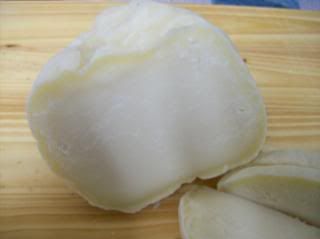 Happy cheese-loving husband 🙂